JS-20A PLC Control + Servo Type + Pneumatic Sealing
Automatic Auger Type Powder Filling & Packaging Machine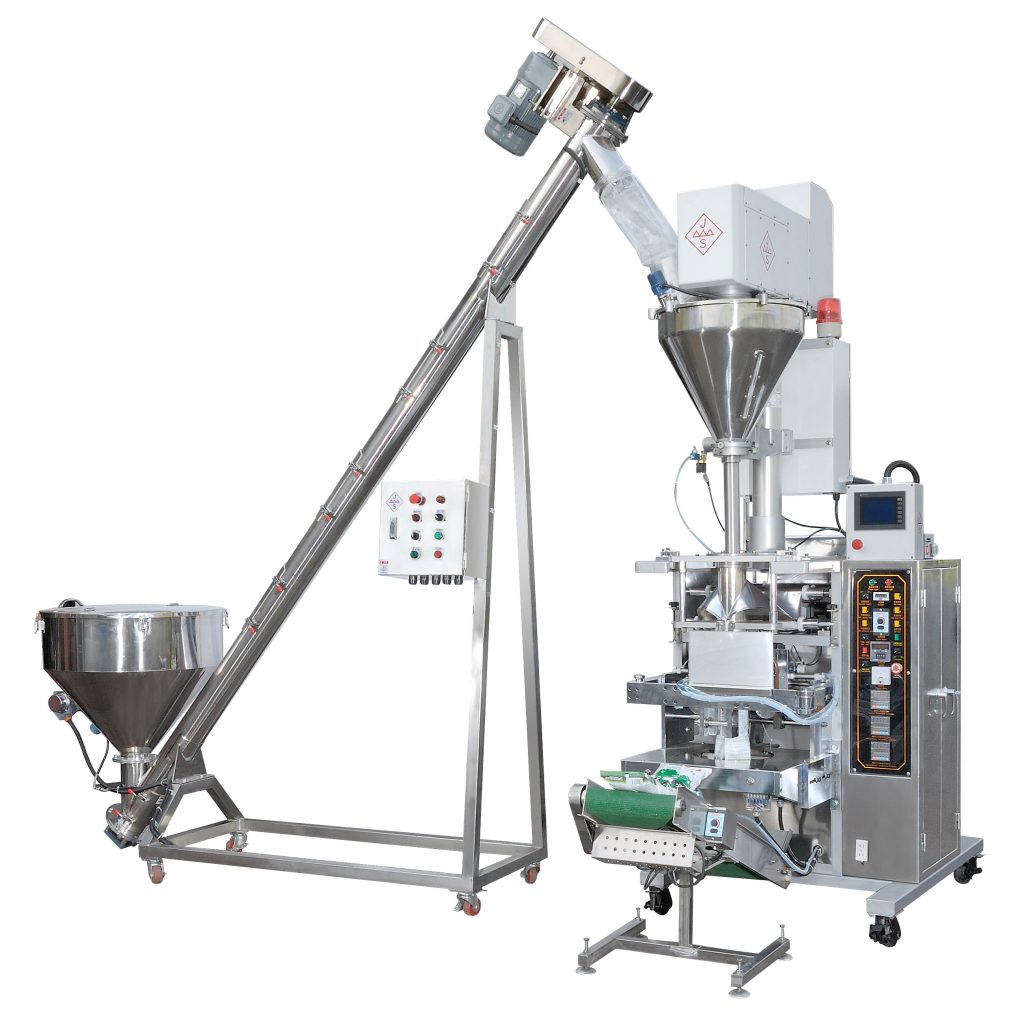 Machine Features:
PLC control + Servo motor with Touch panel for user friendly operation.
Touch Panel for easy usage to set up: Filling weight, cutting mode(eye mark or length cutting), bag length, speed, counter, QTY warning, memory record…etc.
Auger screw filling suitable for light density and hard flowing related powder.
Auger screw is one-piece formed and which is manufactured of stainless steel 304, comes with food sanitary standards.
Pneumatic sealing type for nice sealing packaging performance.
Electronic parts are adopted Japan and German for high efficiency.
Sealing and cutting operations are air cylinder activated for fast, highly efficient operations.
Multiple memory programs to record/read different packaging data.
Auto eye mark tracing in a short time.
Auto warning display for quick trouble shooting.
Filling Weight adjustable through panel directly.
Individual control for film pulling, sealing and cutting.
Enable to set up required sealing & cutting time.
Film tension control for stable film filling & pulling.
Hopper equips with agitator for smooth loading process.
All component in direct contact with product are made with SS304 or food sanitary standard.
PID function Temp. controller for each sealing part with stable sealing performance.
Bag width is adjustable by changing bag former guide.
Bag length 100-300mm is adjustable on the panel directly
Attached 1M speed adjustable product output conveyor.
Machine build with iron cast with stainless steel frame.
Product input screw conveyor is optional device, incl. auto refill function to work with packaging machine.
Optional Device:
Date coder, hopper level indicator, product input conveyor, nitrogen air connector, and other required device upon request.
Applicable Products:
Various powder, such as: seasoning powder, flavor juice powder, milk powder, flour powder, green tea powder, rice powder, cosmetic facial powder…etc.
Applicable Film:
Double layer heat seal suitable laminated film, such as: PET+LLDPE, PET+MPET+CPP, PET+AL+PE+LLDPE, Nylon+LLDPE…etc.
Sealing Type:
JS-20A PLC Control + Servo Type + Pneumatic Sealing + Auger filling
Sealing Style
Motor
Power
Film Width
Bag Length
Filling Weight
Packaging Speed
Machine Dimension
Machine Weight
Note:
Other packaging sizes available upon request.
Filling weight& Packaging speed will be differ from product density, weight & film.
6kg/cm2 compressed air with dry air filtering system self-prepared is required.