JS-68 PLC Control + Touch Panel
Double Wrapped Packaging –Tea bag with String & Tag
Automatic Quantitative Double Wrapped Filling & Packaging Machine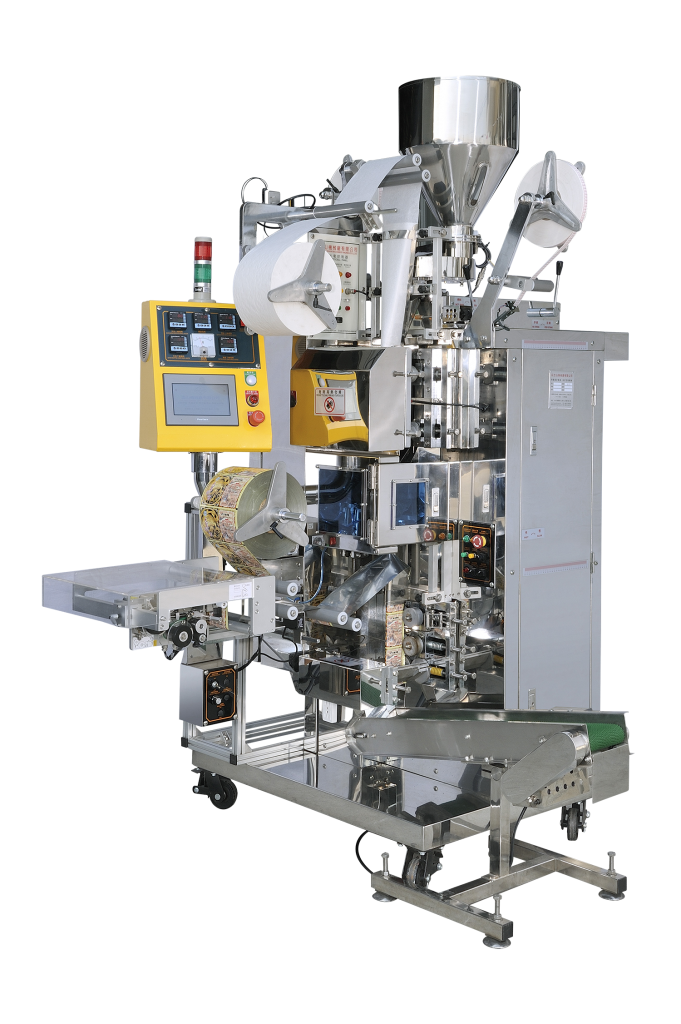 Machine Features:
PLC Control + Touch Panel for ease operation.
Fully automatic packaging process from inner to outer bag.
Inner bag to outer bag with cylinder & sensor control to ensure completed packaging.
Inner bag auto attach with string& tag, without staple.
Extension area in the bottom of bag to extend tea leaf completely.
Touch panel for multiple function setting, user friendly operation.
Auto warning display for quick trouble shooting display.
Volumetric Filling method with metering dish & cups.
Enable to equip vibration & agitator to enhance product filling fluidness according to request.
All component in direct contact with product are made with SS304 or food sanitary standard.
PID function temp. Controller for each sealing part with stable sealing performance.
PLC control photocell device for outer bag, auto tracing eye mark in a short time.
Auto detection function on: inner material, outer material, string attaching, tag delivery, hopper level, inner bag filling to outer bag.
Product output conveyor attached with machine.
Optional Device:
Date coder, product input conveyor, nitrogen filling connector…etc., or other required device upon request.
Applicable Products:
Powder related products, such as: coffee powder, tea, herbs, ginseng …etc.
Applicable Film:
Inner bag: Heat seal suitable filter paper, such as: cotton filter paper.
Outer bag: Double layer heat sealable laminated film, such as: PET+LLDPE, PET+MPET+CPP, PET+PE+AL+LLDPE, Nylon+LLDPE…etc.
Sealing Type: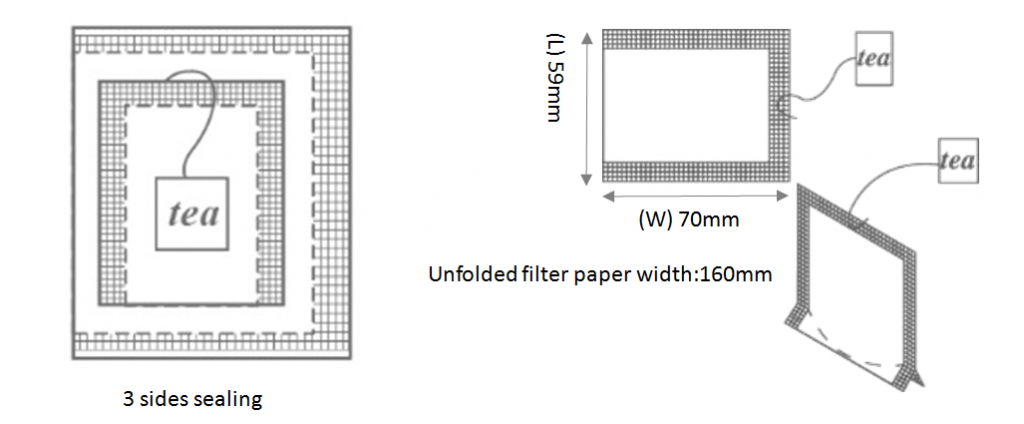 JS-68 Double Wrapped Packaging–Tea bag with String & Tag
Sealing Style
Motor
Power
Inner Bag Size
Outer Bag Size
Filling Weight
Packaging Speed
Machine Dimension
Net Weight
Note:
Other packaging sizes available upon request.
Filling weight& Packaging speed will be differ from product density, weight & film.
6kg/cm2 compressed air with dry air filtering system self-prepared is required.